Specifications
electric galvanized field fence:
1.wire dia: 2.0 2.5
2.height: 0.5-2m
3.Factory
Electric Galvanized Gield Fence Professional Manufacture
Gabion wire mesh machine

Reinforced key position
More efficient then normal gabion machinery
Easy to operate and maintain
electric galvanized field fence material:
Electro galvazied iron wire
electric galvanized field fence appolication:
Field fence is a kind of mesh used in cattle, goat, deer, and pig.
It is used for grassland, pastures, protection of ecological projects,
Papadopoulos grassland, forestry, highway and environment.
electric galvanized field fence feature:
Features: Galvanized cattle fencing we offer have innovative and firm structure, flat surface, uniform opening and good integration. This product offers good flexibility; good pressure resistance, corrosion resistance and weather resistance properties and can serve for a very long time. Even the cut pieces will not deform under pressure. It has excellent corrosion resistance and anti-oxidizing property. Unlike the welded wire mesh fences with the welding spots getting easily broken, our grassland fences are firm forever once installed and make the best materials for protecting grassland, forestry, highway and environments.
electric galvanized field fence packing:
50m or 100m length per roll or according to customer requirement .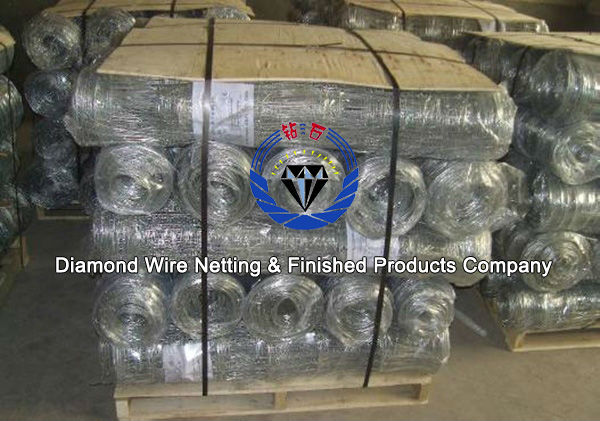 size are listed as below:
Specificaton of Cattle Fence
No.
Mesh Type
Horizontal Wire Space

(

mm

)

Weight(kg)
Selvedge Wire Dia

(

mm)

Mesh Wire Dia(mm)
Roll Dia(mm)
1
7/150/813/50
102+114+127+140+152+178
19.3
2.5
2
280
2
8/150/813/50
89+89+102+114+127+140+152
20.8
2.5
2
280
3
8/150/902/50
89+102+114+127+140+152+178
21.6
2.5
2
280
4
8/150/1016/50
102+114+127+140+152+178+203
22.6
2.5
2
280
5
8/150/1143/50
114+127+140+152+178+203+229
23.6
2.5
2
280
6
9/150/991/50
89+89+102+114+127+140+152+178
23.9
2.5
2
280
7
9/150/1245/50
102+114+127+140+152+178+203+229
26.0
2.5
2
280
8
10/150/1194/50
89+89+102+114+127+140+152+178+203
27.3
2.5
2
280
9
10/1501/1334/50
89+102+114+127+140+152+178+203+229
28.4
2.5
2
280
10
11/150/1422/50
89+89+102+114+127+140+152+178+203+229
30.8
2.5
2
280
Customized type is also available
Certification
About Diamond
Our services
When requesting a quote, please specify:
1.Mesh type (you can chose one from the form or design as your require)
2.Surface treatment of wire(electric galvanized wire/hot dipped galvanized wire/PVC coated)
3.Quantity
If you have any questions about farm fence, you can contact me anytime